Sifting through the guidelines before the PMTA deadline can be a daunting task. There are a lot of requirements and procedures you'll have to undergo before submitting your PMTA, and all of this is necessary to launch a new vape product.
The global vaping market is expected to grow to a worth of over $29 billion by 2022. As with any lucrative but potentially risky market, there are several FDA regulations in place and GMP is crucial to producing quality products. 
In fact, because of the rigorous Premarket Tobacco Product Applications process, or PMTA, exercising GMP from the get-go is crucial. Isolocity's vape-specific software system is designed with GMP, ISO 9001, and risk management in mind to make your job easier.
We've got your back. Read on to learn more about PMTA deadline and get one step closer to becoming the vape manufacturer you want to be. 
Who Has to File a PMTA?
Does this process apply to you as a vape manufacturer? If you're producing electronic nicotine delivery systems (ENDS), then the answer is, most likely, yes. 
Unless a vaping product existed on the market before February 15, 2007, it must undergo the application process. This includes products that did exist on the market before 2007 but are since modified. 
Note that this doesn't just include manufacturers of electronic nicotine delivery systems, themselves. Even vape juices that are new to the market must go through the PMTA process. 
How do you get approval for a variety of products, like a full line of vape juices? You may file a single PMTA for your full line of products but it will require a complete breakdown of each product in the manner we will discuss below. Although you can submit it under a single application, the FDA will review each product as individual applications, which means that you may get approval on some of your products and denials on others.
PMTA Guidelines for ENDS: What to Include
The PMTA process for ENDS varies slightly from the traditional PMTA. The full guidelines include a lot of legal and technical jargon. Let's take a simpler look at what you're expected to include so you have an idea of where to get started.
Health-Related Research
Under section 910(b) of the FD&C Act, you are required to provide all research and data on the product and how it will impact overall health. This includes how it will impact users' health and whether or not it will promote cessation and pose fewer health risks than existing tobacco products. It also includes how it will impact non-users' health and whether or not it will lead to non-smokers picking using your product.
In some cases, you may have to perform clinical trials. Even if this is not required, it is recommended. 
Full Statement of Ingredients and Components
Include a full list of all ingredients and uniquely-identified components. This includes everything from additives in the juice to the battery used in the delivery system, itself. 
You need to be very clear about the quantity used in each system. You also need to state plainly the intended use for each ingredient and component. 
Methods
This is where Isolocity comes into play. Your PMTA needs to have a full rundown of the methods as well as the facilities and controls you've used in creating this product. That includes manufacturing and processing and, if applicable, packing and installing, as well. 
If your GMP is up to par, you can ensure that each of these procedures will be repeated every time you manufacture your ENDS.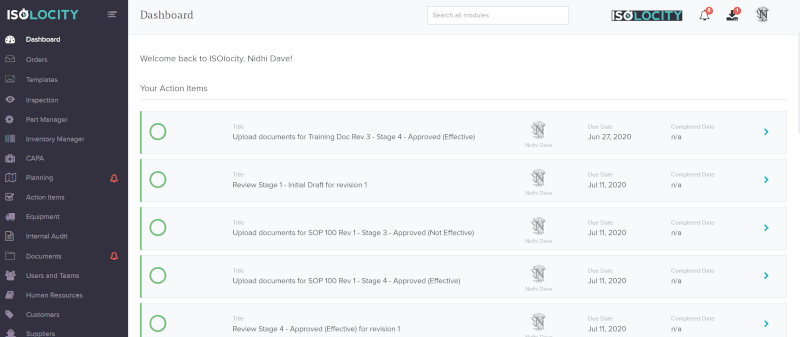 Isolocity's SOP templates, document, equipment, risk management and training modules allow you to both keep records of all of these procedures but also schedule them for regular maintenance.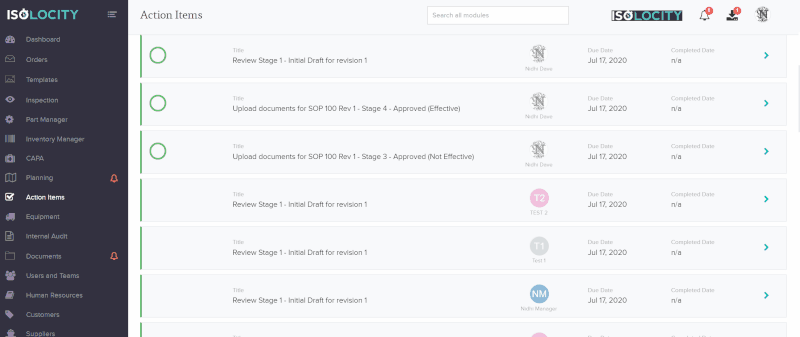 This will help you show that your facilities and controls are consistent and safe. This reduces the risk that you will lose your license in the future due to unregulated or inconsistent practices.
907 Information
Section 907 of the FD&C Act outlines FDA standards for all tobacco products. Your PMTA must include a section regarding how your product is compliant with Section 907. Otherwise, you must provide adequate justification for why it doesn't meet 907 standards.
Product and Label Samples
Along with the paperwork, you may need to provide a sample of your product(s). After submitting your application, you will receive a letter from the FDA outlining which of the products they require.
You will need to include any labeling that you will include on the packaging. This includes textual information as well as graphics.
Environmental Assessment
In some cases, you must conduct an environmental assessment of your product. This includes, but is not limited to, the effects of the chemicals used in the product, the likelihood of environmental contamination, and the amount of waste generated during production and usage.
How to Format Your PMTA
The FDA recommends that you begin your PMTA with a cover letter and table of contents. This should be followed by summaries of the product and its components. Then, include your product description, including ingredients, methods, and finally, your health and environmental research.
What to Expect After Submission
The Secretary in charge of your PMTA has no more than 180 days to conduct an acceptance review. During that time, they may request more information from your company than what was initially provided in your PMTA.
Once the acceptance review is complete, you will either receive an order that the product may be introduced to interstate commerce or that it has failed to pass the review process and cannot enter interstate commerce. Failure must be based on 1 or more grounds that are stated to you in an actionable way. In other words, you may work to improve your product based upon the FDA's ruling and submit a new application in the future.
Note that this year's PMTA deadline was moved from May 12th, 2020 to Sept. 9th, 2020.
Vaping Quality and Compliance Management
Isolocity is a software designed to manage and, to some extent, automate your quality management system. Over time, we've added more features to help you uphold your GMP and meet various industry standards. When the system needs your input or action, it'll let you know.
Staying on top of quality management is a key component of putting together a viable application before the PMTA deadline. Why compile all of that information manually when Isolocity can do it for you? Try out the demo here and see if Isolocity is a good fit for your growing vape business.