21 CFR 211.198, 21 CFR 211.167, 21 CFR 211.180, and 21 CFR 211.194 are four regulations that govern the manufacturing of pharmaceuticals and medical devices in the United States by defining how to store, test and produce them safely. These regulations were established by the Food and Drug Administration (FDA) under the authority given to it by Congress in 1938 when it enacted the Federal Food Drug & Cosmetic Act (FDCA).
In addition to reading, you can watch this blog too!
What is 21 CFR 211.198 – Complaint files
21 CFR 211.198(a) defines complaint files as those records concerning complaints related to food, drugs, devices, or cosmetics that an establishment receives from any source including consumers or health professionals. These include:
Records of complaints received in writing or orally;
Copies of letters sent to other governmental agencies; and
Documents generated in response to the complaint such as correspondence with other Federal agencies regarding recalls initiated by them on product lots associated with your firm's products (such as lot numbers).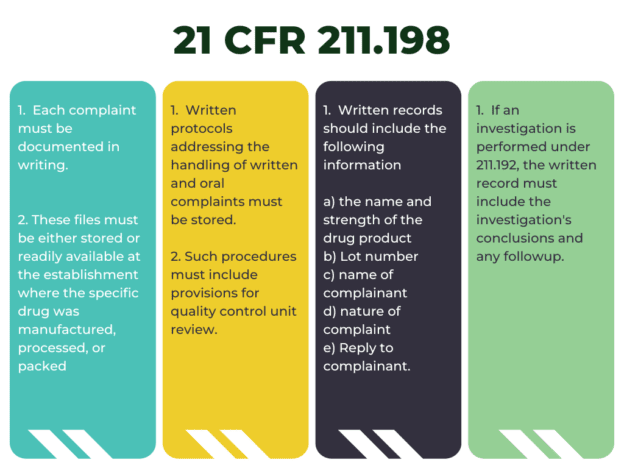 Additionally, more details can be found here.
What is 21 CFR 211.167 – Special testing requirements
21 CFR 211.167 states that all biologics manufacturers must submit samples for potency, purity, and identity testing. They should collect the sample from the production batch and submit it to the manufacturer's designated testing facility.
Each batch of medicinal product claiming to be sterile and/or pyrogen-free must undergo adequate laboratory testing to ensure compliance with such criteria.
There should be suitable testing for each batch of ophthalmic ointment to establish adherence to standards regarding the presence of foreign particles and harsh or abrasive ingredients.
There must be proper laboratory testing for each batch of the controlled-release dosage forms to ensure conformity to the standards for the rate of release of each active component.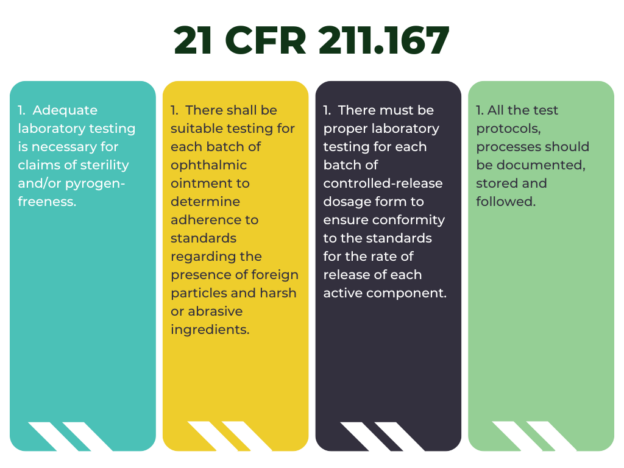 Additionally, more details can be found here.
What is 21 CFR 211.180 – General requirements
You must keep records that document the following:
Your activities related to your establishment's compliance with current good manufacturing practices and other requirements of this part;
The results of your monitoring; and
Your investigations into adverse events associated with drugs, biological products, or devices (see 21 CFR 7002 for reporting requirements).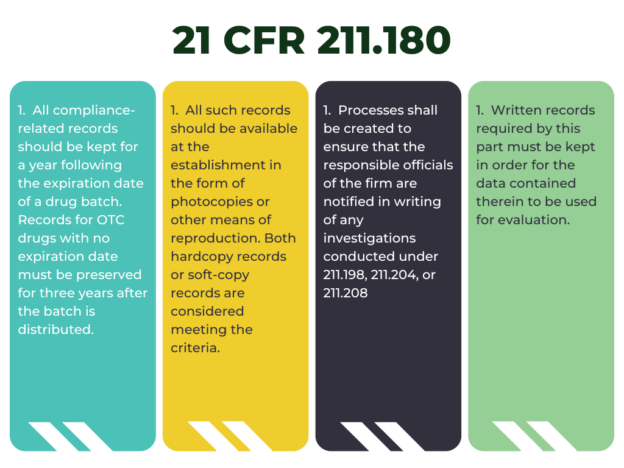 Additionally, more details can be seen here.
What is 21 CFR 211.194 – Laboratory records
The following requirements apply to all clinical investigators who conduct studies under an IND:
You must maintain complete and accurate records of your investigation, including but not limited to:
A description of the methods used in conducting the study;
The source of each test article used in your study;
An accounting of each test article received and distributed;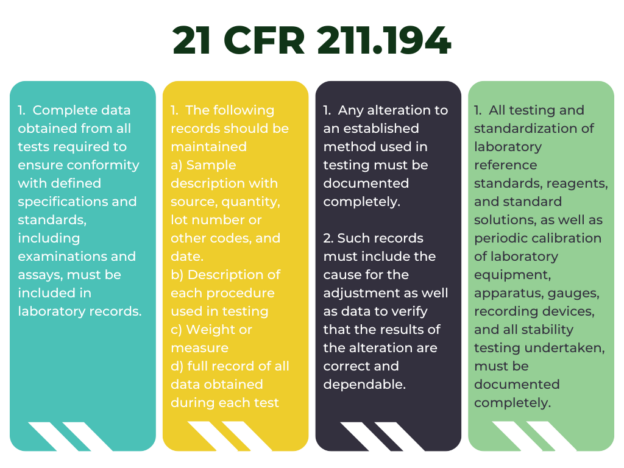 Additionally, more details can be seen here.
Conclusion
I hope this article has given you a better understanding of the regulations that cover laboratory records. Also, documentation is a large part of this exercise and therefore we recommend using document management software so that you can keep a clean track of all your documents and collaborate easily.
Additionally, if you have any questions, feel free to reach out to us.