Introduction
QMS Validation is one of the most important parts of a quality management system. Its purpose is to assess whether the processes and procedures are achieving the goals set for them. QMS Validation aims to determine the extent to which the established objectives are being met by the processes and procedures. In this blog post, we will go over what QMS validation is, how it works, and why it's important.
What is a QMS Validation?

QMS Validation involves actively verifying the compliance of a system or process with a defined set of requirements. It is a process of checking and ensuring adherence to the specified criteria. It's an essential part of quality control, which refers to the various actions taken to improve the quality of goods and services.
A QMS Validation requires documentation about your QMS, documentation that describes how your QMS works and how it integrates with other processes in your organization (such as purchasing), as well as documentation from all relevant stakeholders who work in your organization (for example, managers).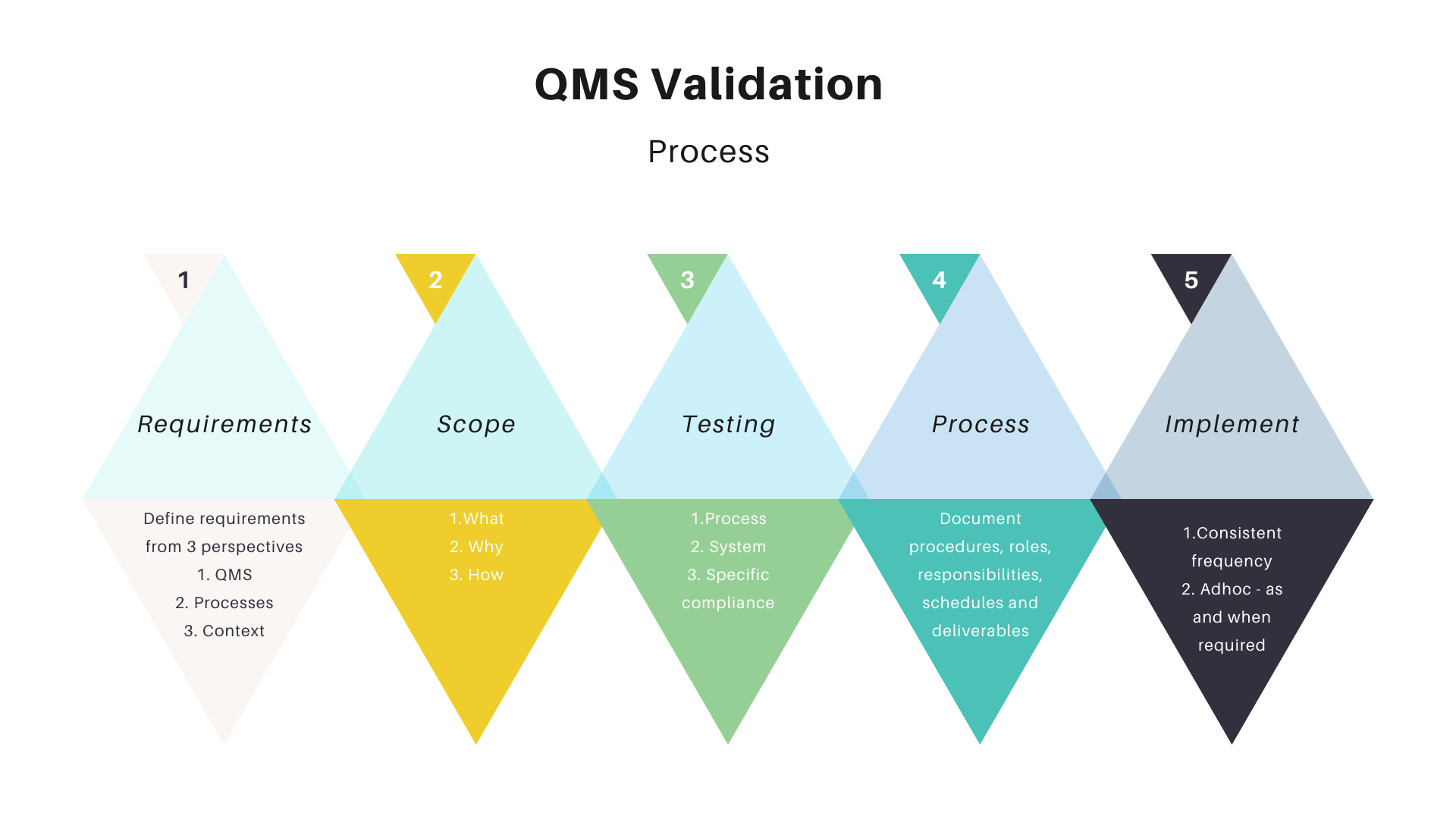 Define the validation requirements
The validation requirements, also known as validation statements, provide the foundation of your QMS. They serve as your justification for why and how you will validate that your system is working correctly.
The validation requirements are categorized into three perspectives:
The QMS itself needs to meet the defined criteria.
The processes that are validated by the QMS must adhere to the requirements.
Specific systems or technical artifacts involved in a particular process within a given context, such as software code or infrastructure, must undergo validation.
Scope, objectives, and criticality of the process.
The scope, objectives, and criticality of the process need to be clearly defined. This will be useful in identifying gaps or potential improvements. The following information should be made available:
What is this process? (What does it do?)

What are its objectives? (What does it achieve?)

How important is it for the organization's success? (How significant is it for the business's success?)

Is it essential that you have this process running as efficiently as possible or can you live without it if necessary?

You could also consider whether there would be any negative impacts on other processes if your current one were not being carried out correctly.

Is this process compliant with our QMS/regulations/customer requirements and specifications?
Test the entire process.
Testing the entire process will ensure the system meets its requirement specification compliance. You can do this by following a defined process:
Test all processes in your QMS to ensure they continue to meet their requirements.

Give each process its own test plan, which includes test cases and sample data.

Execute each test case on the system using live data and monitor actual output against expected results to make sure the outputs are correct.
Test the entire system.
The last thing to do is to test the entire system as a whole. This includes testing from a user's perspective, technical perspective, regulatory perspective and ethical perspective.
Test the requirement specification compliance.
You need to ensure that the requirements specified by your customer are in fact met and that your product or service meets the customer's expectations. It is also important to conduct this type of validation during all phases of a project.
Follow a defined process!
The first thing to do is to define a process that you can follow. A good quality management system needs to be documented and has defined procedures, roles, responsibilities, schedules, and deliverables. The more defined it is the easier it will be for all involved in the QMS audit process.
Just do it.
Once you have a QMS in place, it's time to validate it. Validation is the process of ensuring that your QMS meets its requirements. It is a systematic and objective method to determine whether your QMS is effective and suitable for its intended use. Conduct internal audits regularly within the lifespan of your Quality Management System (QMS). The recommended frequency is at least once every three years following the initial implementation or when substantial system changes occur, such as the introduction of new processes or products.
It's important that you do this properly—a poorly executed validation program could lead to negative consequences down the line as well as damage internal credibility for other initiatives within an organization.
Conclusion
We hope that we have given you enough information about QMS validation and how to do it. If you are still unsure or would like more information, please feel free to contact us at any time. We look forward to hearing from you soon!
Rate us on Capterra.