Inventory tracking is now even more precise with the help of batch-specific tracking. In the past couple of months, the Isolocity team has been working tirelessly to bring new enhancements to the inventory module. Better traceability, more data, and other enhancements are on the way. The first of which: batch-specific inventory tracking, will be launching next week.
Note: This feature is only available for those who have subscribed with our Inventory Add-on. If you would like to know more about inventory/batch tracking, please reach out to us at support@isolocity.com
To prepare for this launch and ensure a smooth transition of all inventory to the new system, follow this quick-start guide:
While adding batches to receiving inspections, product inspections, orders and shipments is currently available, we wanted it make it even more specific. This is why the inventory module will now have a drop-down menu that allows you to link batch records while displaying the items inventory and history.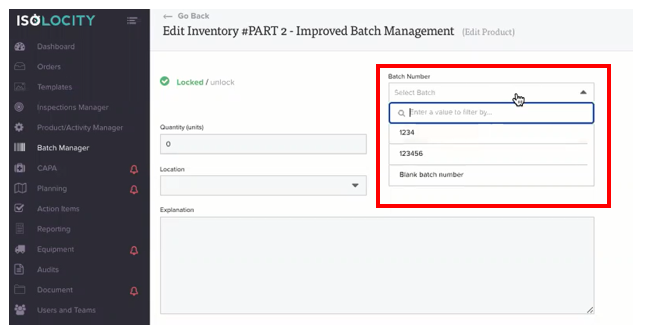 Moving forward, integrate all batches with this feature to ensure seamless operation. Store previous data as a legacy record, guaranteeing that your documentation remains accessible whenever needed.

For a smooth transition over to our new batch management feature, we recommend adding in any existing batches you have and allocating the correct amount of inventory to them.  As you do this, be sure to subtract that amount from your "legacy records" so your inventory remains accurate.
This feature will be launching on Nov 6, if you have any questions prior to the launch please contact emily@isolocity.com, or support@isolocity.com.  We are more than happy to schedule some time with you to walk through any questions!