It's important to understand that becoming an ISO 9001 consultant can be both challenging and rewarding. It takes hard work and dedication to get this designation, but once you've done it and become certified in the field, you may find yourself with a lot more options for your career path. 
Now you can watch this blog about ISO 9001 consultant too!
Think about why you want to become an ISO 9001 consultant.
When you're starting a career as an ISO 9001 consultant, it's important to have a clear sense of your motivations and goals. The first step is to think about what you enjoy doing most in life: Do you feel like you're good at teamwork? Do you get more satisfaction from individual projects? What are the things that excite or motivate you?
If possible, dig even deeper by asking yourself questions like these:
What are my strengths and weaknesses? How do I know this is true about myself?

What do my colleagues say about me when they give feedback on my performance at work (or outside of work)?

What are my goals for the next five years—my career path—and how does becoming an ISO 9001 consultant align with those goals? Or vice versa: How could getting certified help to achieve one of those goals sooner rather than later?
Find out what is involved in becoming an ISO 9001 consultant.
The ISO 9001 consultant is a professional who advises organizations on how to implement and maintain their ISO 9001 certification.
When working as an internal auditor, you'll be analyzing the company's performance against requirements set forth by their standard(s). You might look at areas like employee training levels, quality events, or document control systems to ensure they meet the requirements laid out in the standard.
Download Our Quick Guide:
Top 10 Questions Asked During ISO 9001 Audit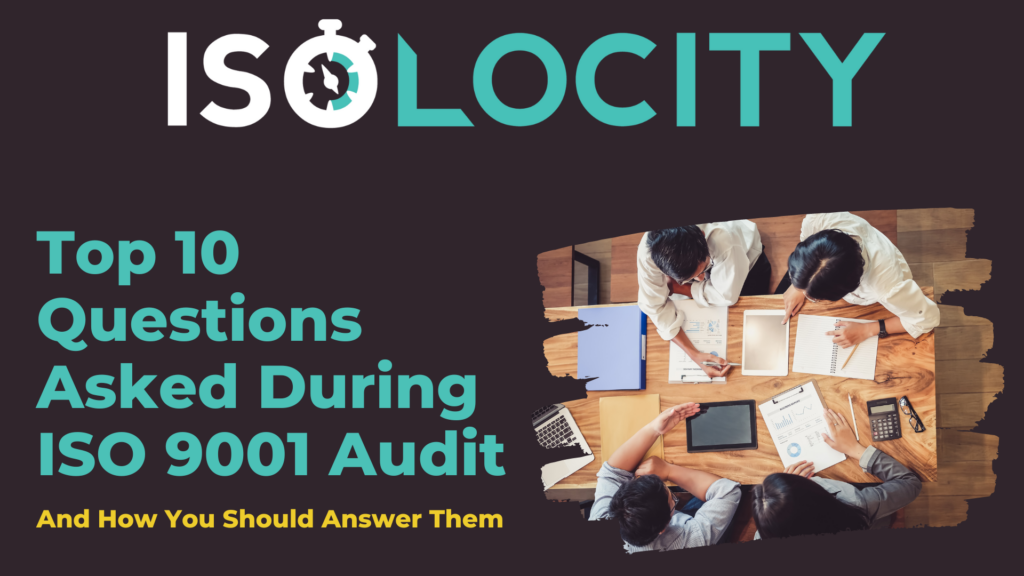 Complete a degree or diploma in quality management.
If you want to enter the field of quality management, it is essential to complete a degree or diploma in quality management. Here's what you need to know about your options:
The most common undergraduate program is a Bachelor of Science in Quality Management (BSQM). This degree will take four years on average but if you have enough credits from previous education or work experience, you can do it in three years too.

If you have already completed an undergraduate program and want to continue your studies, there are Master's programs available as well. These degrees will require two years of full-time study and often require at least one year of relevant work experience before admission.

There are also online degrees available for those who would rather not travel to attend class, though these programs may not be accredited by all employers (something we'll talk about later).
Once you've decided which path best suits your learning style and career goals, it's time for some coursework! But don't worry—the courses themselves won't be too difficult or time-consuming; most programs only require students to complete a total of 15-20 courses over the course of their studies.
Complete your certification as a qualified internal auditor (QIA).
The next step is to complete your QIA certification. This will help you land a job as an ISO 9001 consultant, and it will also give you valuable experience in quality management. As a consultant, your primary responsibility is to audit clients' quality management systems (QMS). You'll need to be able to identify problems and make recommendations for improvement, and that means understanding how all the pieces fit together.
Gain experience with at least two successful ISO 9001 implementations.
The best way to learn how to be an ISO consultant is by gaining some on-the-job experience and building up your skills in the field. While you can still find clients and take on projects without any experience, it's always better to have a few successful ISO 9001 implementations under your belt before you start working as a consultant.

There are many different variables that come into play when implementing a quality management system, but these vary from company to company depending on their industry and requirements. You need to know both how these systems work in general as well as what makes each one unique so that you can suggest the right solution for each client based on their needs.

Know how to communicate effectively with clients in order to ensure their success during implementation.

Understand and manage time constraints during implementation projects.
Apply to be an ISO 9001 Lead Implementer through an accredited examination provider.
Once you have your CV and cover letter in order, it's time to apply for the ISO 9001 Lead Implementer examination. It is important that you attend a course that has accreditation from one of the following organizations:
You may also want to check if the training provider has been approved by the Institution of Engineering and Technology (IET) or the Chartered Quality Institute (CQI). This will ensure that they are providing quality training with an emphasis on best practice implementation. Once you've found an accredited training provider, set up a meeting with them so they can help guide you through what is required in order to become certified as a lead implementer.
Consider getting your training and working for an established ISO consulting firm that specializes in ISO 9001 certification and consulting services.
If you are just starting out in the field, consider getting your training from an ISO 9001 training provider.
Also, try to find opportunities to work for companies that have already implemented ISO 9001 or are interested in becoming ISO certified. This will allow you to gain experience working with organizations that are implementing an internal quality management system and helping them meet their goals.
Becoming an ISO 9001 consultant can be a good career, but it will take some work.
Becoming an ISO 9001 consultant can be a good career, but it will take some work. You will have to be patient and committed to your goal. You also need to have the right personality and be flexible while remaining organized.
Conclusion
It's important to think about why you want to become an ISO 9001 consultant before starting down this path so that you know what types of organizations will be good employers and whether or not they need your services. When looking into schools offering training programs related to ISO certification services, look at their accreditation status as well as how many graduates they've produced over time so that they're credible sources when recommending individuals like yourself who want more information on becoming an ISO 9001 consultant.