Cannabis is a highly regulated industry and therefore keeping all aspects of the business compliant is very critical. We live in a digital era where more and more industries are shifting towards digital solutions and the same is true for the Cannabis industry as well. As a business replacing manual efforts with automation through software is essential as it reduces turnaround time, the margin of error, and most importantly, cost.
MES vs QMS vs ERP
Though there are many different types of software systems used in a cannabis facility, broadly speaking, they can be categorized into three buckets, mainly:
Manufacturing Execution System (MES), some also call it Seed-to-Sale (S2S) – Mandatory

Quality Management System (QMS) – Mandatory

Enterprise resource planning (ERP) – Optional but preferred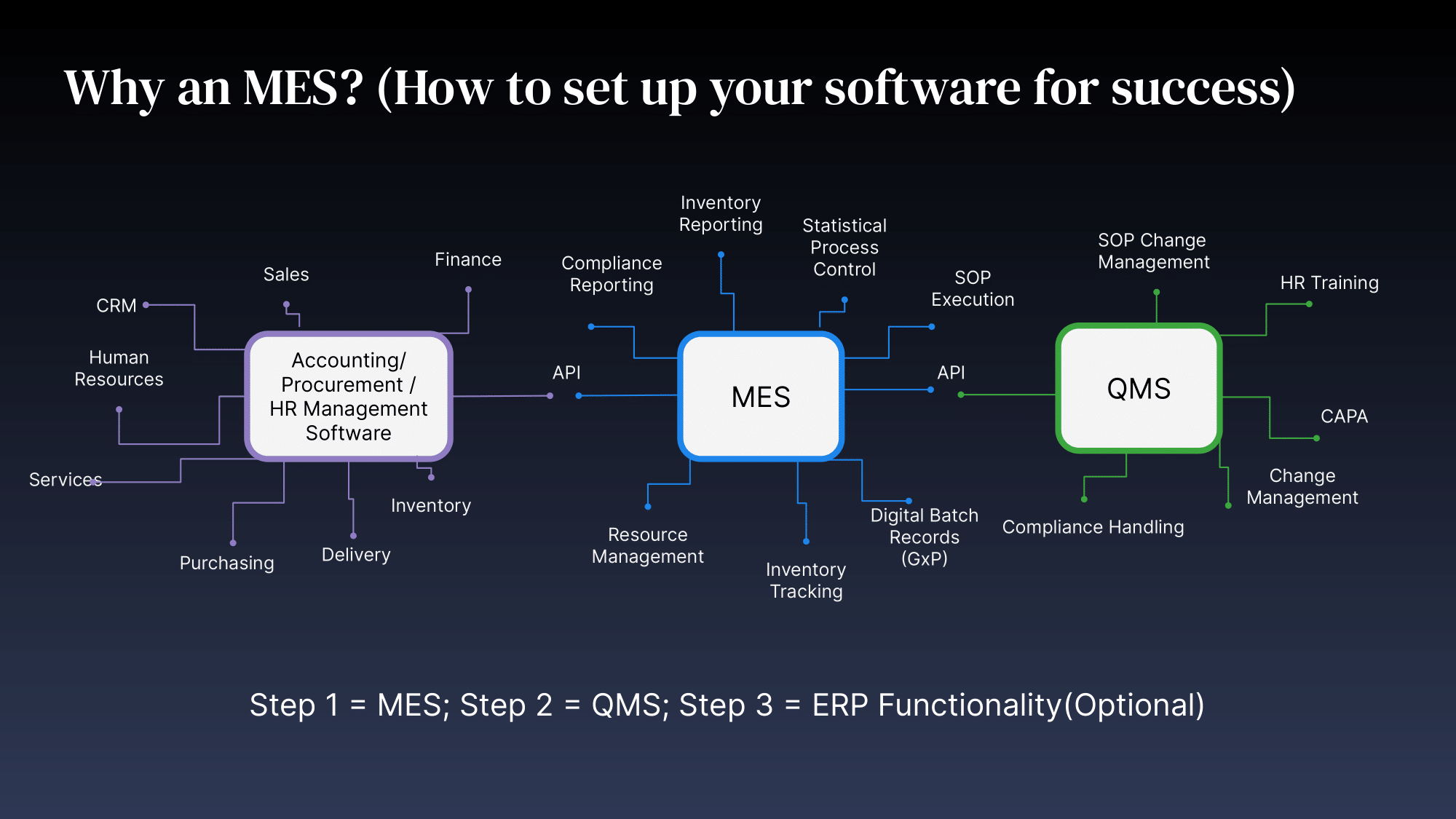 Elevated Signals and Isolocity are the most popular choices in the cannabis industry as MES and QMS respectively. 
In the past couple of months, the Isolocity and Elevated Signals teams have been working tirelessly to bring a new integration between the two software systems. 
Software integration plays an important role for businesses as it allows them to mitigate the risks of double handling data. 
What is Isolocity?
Isolocity is a QMS that documents and monitors processes, procedures, and responsibilities within a business while keeping companies in compliance with regulatory requirements.   
Isolocity offers quality management software to help a business stay in compliance no matter where you are located.  It uses GMP / EU GMP and other quality principles to allow companies to meet global compliance standards. 
Beyond regulations and standards, there are other benefits to using these systems.
They include:
Improved consistency

Less rejected batches and non-conformities

An uptick in customer satisfaction

Better efficiency in operations
Implementing a QMS with an integrated communications system lets you streamline the flow of data.  
What is Elevated Signals?
Elevated Signals is a Manufacturing Execution System (MES) that replaces fragmented systems of spreadsheets, paper, and legacy seed-to-sale software. 
Used by cannabis cultivators and processors, the platform enables fully digital cGMP batch record-keeping, granular inventory accounting, environmental monitoring, and data analytics in one central platform that helps companies improve production quality and performance.
Many MES or Seed-to-Sale software programs don't have the features of a QMS system. Hence, the necessity for both systems in optimizing documentation and reporting for requirements. 
Isolocity

Elevated Signals

Objective

Eliminate all labor involved in Quality Compliance

Improving production quality and performance through digital transformation

Key Features

 Document & SOP Management 

 Corrective & Preventive Action (CAPA)

 Supplier Qualification & Tracking 

  Audit Management 

 Risk Management 

  Learning & Training Management 

  Batch Validation & Release

Granular cannabis and non-cannabis inventory tracking reporting for cultivators and      processors

Digital quality recordkeeping & fully paperless GMP batch records 

Environmental monitoring 

SOP execution 

Analytics & optimization
How does this integration help businesses?
By activating the Isolocity and Elevated Signals integration, businesses will be able to import their plant inventory and batch numbers from Elevated Signals into the Part Manager module in Isolocity. 
This will allow businesses to reduce the double-handling of data and therefore mitigate the risks associated with it.   
Businesses will be able to take advantage of this integration to easily complete their quality processes within Isolocity without worrying about double entering plant and batch information that is already stored in Elevated Signals.
The image below might give more clarity about this integration.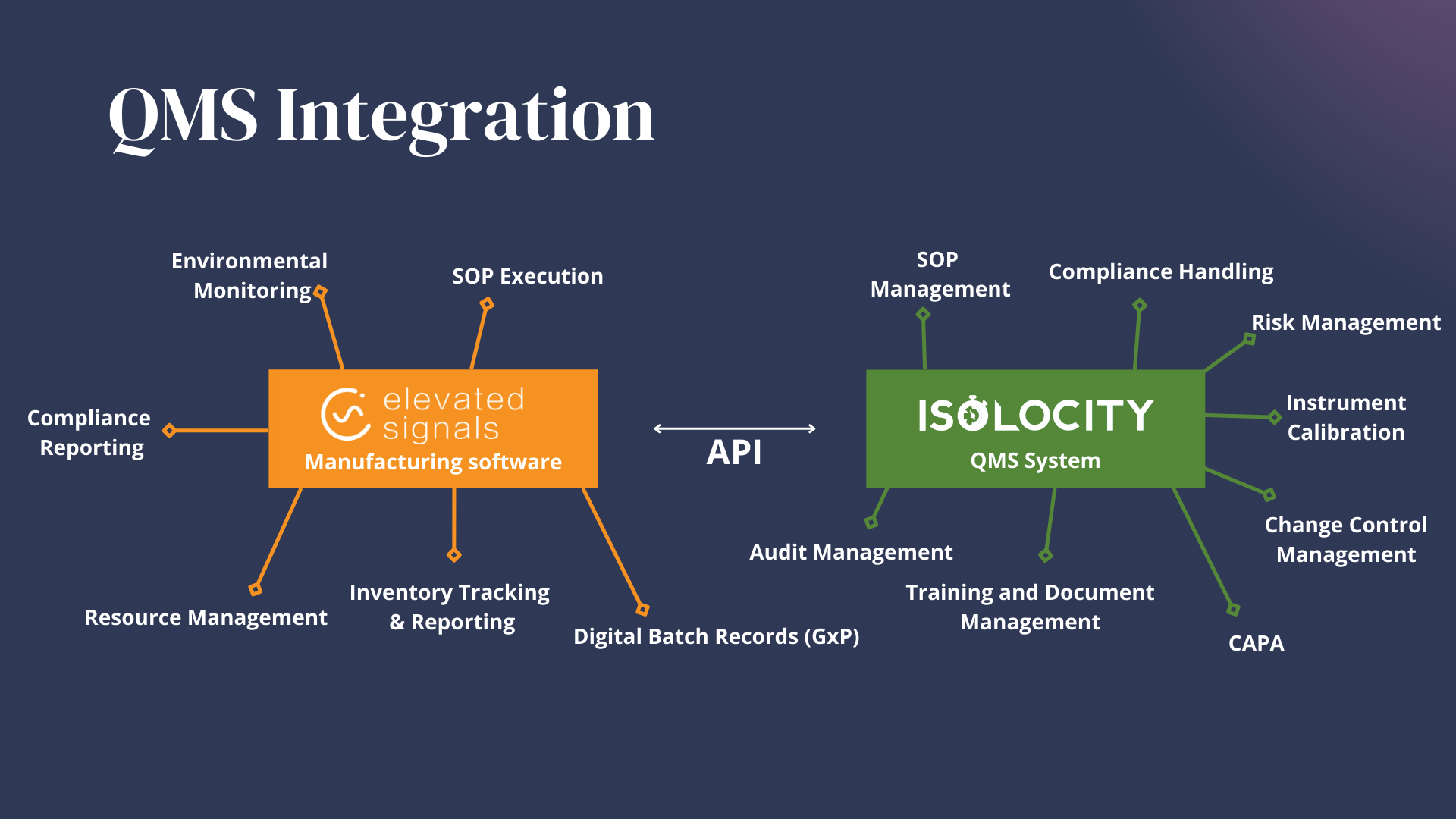 How is this integration set up?
Isolocity's development team will take care of the integration set-up, all the business would need to do is provide Isolocity with login credentials to Elevated Signals!  
The Isolocity and Elevated Signals integration will be able to help provide businesses with the tools they need to be successful.  If you have any questions about compliance and software that can help, we are ready with the answers you need.