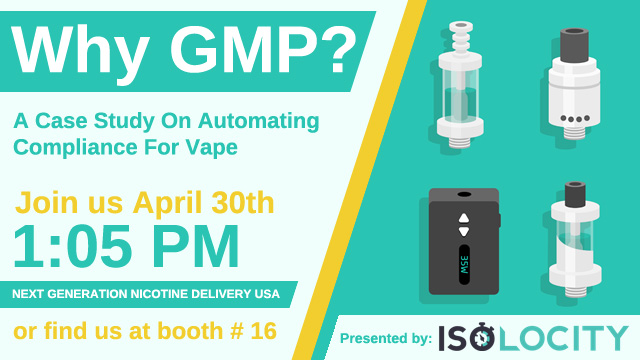 Why compliance automation?
Compliance automation is essential for assuring regulatory compliance and sustaining operational excellence across industries. It is impossible to exaggerate the significance of compliance automation, including Good Manufacturing Practices (GMP), particularly in highly regulated industries such as the vaping industry.
By automating compliance processes, organizations can streamline operations, reduce errors, improve efficiency, and attain quality standards that are consistent across the board. Compliance automation reduces reliance on manual and paper-based systems, which are susceptible to human error and time-intensive administrative tasks. Instead, it enables businesses to automate workflows, documentation, data collection, and reporting through the use of technology.
GMP Context
In the context of Good Manufacturing Practices (GMP), compliance automation offers several important advantages. Compliance automation empowers organizations to comply with regulatory requirements and industry standards through real-time visibility into their quality management systems. Automated GMP systems standardize and trace crucial processes like bulk record management, quality control, and document control.
CAPA Context
In addition, automation of compliance enables proactive risk management and mitigation. It aids in identifying and addressing potential compliance issues and deviations in real-time, enabling prompt corrective and preventative actions. This proactive approach reduces the likelihood of non-compliance incidents and assists organizations in maintaining a solid reputation within the industry and with regulatory authorities.
Data Integrity Context
Another important benefit of compliance automation is its capacity to improve data integrity and precision. Automated systems capture and store data electronically, minimizing the possibility of data entry errors and facilitating retrieval and analysis. This assures the accuracy and integrity of vital compliance-related data, which is essential for audits, inspections, and regulatory reporting.
Scalability Context
As businesses expand into new markets, compliance automation also aids in scalability and adaptability. It enables organizations to efficiently incorporate compliance requirements specific to various regions and jurisdictions, ensuring international regulatory compliance while preserving standard processes. This adaptability is especially crucial in the vaporizer industry, which must contend with changing regulations and emerging markets.
It is vital for organizations to navigate regulations, streamline operations, ensure data integrity, and mitigate compliance risks. By leveraging automation technology, businesses in the vaping industry and other sectors can achieve regulatory compliance, enhance operational efficiency, and confidently enter new markets while maintaining quality standards.
Our presentation
Join us for our next vape event presentation at Next Generation Nicotine Delivery USA 2019. Our presentation "Why GMP? A Case Study On Automating Compliance For Vape" will break down these topics and more:
Understanding why automating GMP is important and how it will change your daily job
Discussing how digital GMP systems differ from traditional quality management
Highlighting GMP systems' international regulatory implications and connection to consumers
Exploring how to integrate GMP and be ready for bigger business in newly open markets
Find out how automation will get your facility ready for newly open markets.
Remember to check out our events section to see if we'll be at any upcoming vape events 2019 near you or ask us about a free demo of our automated GMP compliance software.