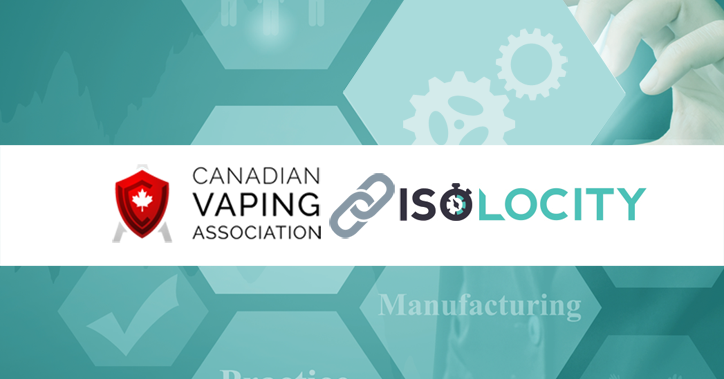 Isolocity is proud to announce that we have partnered with the Canadian Vape Association (CVA) to develop the GMP e-liquid vaping standard guidelines, and will be presenting them to Health Canada and the rest of the industry. Our subject matter expert Chris Budd will chair the Canadian Vaping Association standards committee ( CVA standards committee ) with the help of other Canadian industry subject matter experts.
Isolocity will develop and present a report based upon the Health Canada Food Grade GMP template, in addition to learnings from our attendance at North American E-liquid Summit held in California on June 18th and 19th. The purpose of our involvement is to create a vaping standard report that includes suggestions and best practices that promote and advocate compliance in the manufacturing of vape products.
Canadian Vaping Association
The Canadian Vaping Association (CVA) is an organization that represents and advocates for the vaping industry in Canada. The CVA promotes the use of vaping products as a harm reduction aid for adult smokers and works to ensure that reasonable regulations and policies support the responsible use of these products.
The CVA collaborates with various stakeholders, such as industry members, consumers, healthcare professionals, and government agencies, to promote evidence-based information about vaping and its prospective benefits. It engages in research, education, and public awareness campaigns to increase knowledge of vaping and its role in tobacco harm reduction.
Moreover, the CVA seeks to promote the interests of its members, which include manufacturers, distributors, and retailers of vaping products. It provides resources, support, and advocacy for matters concerning product safety, quality standards, marketing regulations, and taxation policies.
The Canadian Vaping Association strives to create a regulatory environment that recognizes the potential of vaping as a less harmful alternative to traditional tobacco smoking, while assuring consumer protection and youth access prevention.