ICBC Berlin Update – 2023
Post-Event Discussions
In addition to reading, you can watch this blog about ICBC Berlin too!
General Overview of ICBC Berlin 2023 and Cannabis Legalization
For Isolocity, ICBC 2023 was yet another fantastic conference. While establishing some new strategic ties, we reconnected with several of our partners and clients headquartered in the EU and the UK. The conference's most talked-about subject was Germany's ambitions for legalization. The nation's initial move towards completely decriminalizing the drug appears to be the incorporation of "social clubs" to distribute recreational marijuana.
The good news is that a QMS will be needed for these Social Clubs! The social club strategy will have its drawbacks, but it will be interesting to assess how well it aids in the German government's distribution control. Importing from other nations will undoubtedly play a significant role in how the German supply chain develops. Germany has a small number of producers, and the supply chain model seems to be changing to favor a distributor strategy. Several of our German-based clients were also connected to us, and this included a site visit.
Isolocity was fortunate to be in Germany. A NADCAP conference was also taking place at the Estrel conference hotel. By taking advantage of this, we made some new acquaintances and possible romantic prospects. Despite the size of the cannabis business for us, we also collaborate with other sectors, particularly aerospace.
The conference the next year has already caught our attention. ICBC Berlin will be yet another popular vacation spot next summer, especially with the EURO 2024 competition taking place in Germany!
Updates for the rest of the European Market
The rest of the EU as a whole appears to be maturing and the market is stabilizing. Producers seem to be more conservative with their investments and promoting operating basics intended to build strong organizations, perhaps learning from the mistakes experienced in Canada. The number of producers in the EU is not likely to increase much in the future.
Additionally, the UK offers a brand-new, dynamic market that is currently expanding. At this year's meeting, that region was more strongly represented. With some of the top consultants and trade organizations, we had some wonderful discussions.
There was one main recurring theme for us throughout the conference: "What do I need to do to move products to Europe?" The answer is simple, yet complicated: meet the EU-GMP standards. If you come from a more pharmaceutical background, you've likely built your operations around this standard. But for many that are not, this is a whole new concept. For this latter group, we were able to generate a lot of positive conversations with not only our EU-GMP-validated eQMS software but the network that we have developed to make sure they are speaking with reputable, experienced colleagues.
High Tech, High Times – Panel Discussion at ICBC Berlin 2023
"High Tech, High Times" was an exceedingly engaging panel discussion moderated by Chris Budd of Isolocity. In this panel, technology experts discussed the most recent trends and opportunities in cannabis technology, as well as how digital tools can help businesses remain competitive in an industry that is rapidly evolving.
As the cannabis industry continues to develop and flourish, digital technology will play an increasingly vital role. From seed-to-sale tracking to customer relationship management, cannabis businesses are turning to software-as-a-service (SaaS) solutions, mobile applications, web 2.0, and big data analytics to enhance efficiency, compliance, and the customer experience.
Other panelists were Nohtal Partansky, Lewis Koski, Hans Herders, and Jürgen Bickel.
Watch The Complete Panel Discussion Here
Pre-Event Discussions
We are delighted to be exhibiting at Booth 506 for the second time at the ICBC Berlin. This event has become a crucial venue for showcasing our cannabis industry expertise and forging valuable connections. Reflecting on our participation in ICBC 2022, we gained valuable knowledge about the EU market and its complex regulatory and licensing requirements.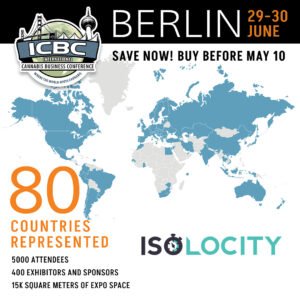 Networking holds immense importance, and the connections we established at last year's conference have played a pivotal role in driving our success. Since then, Isolocity has established customer bases in numerous nations, including New Zealand, Australia, Portugal, Switzerland, the United Kingdom, Germany, Spain, and the United States. These alliances have allowed us to expand our reach and solidify our position as the leading Electronic Quality Management System (EQMS) solution for cannabis businesses globally.
As we anticipate the upcoming event, we understand the significance of keeping abreast of the changing landscape of the German market. Numerous issues remain unanswered, and we believe that the ICBC Berlin 2023 will provide invaluable insights. The exceptional speakers, with their vast experience, will cast light on the future direction of this sector of the economy.
ICBC Berlin – High Tech, High Times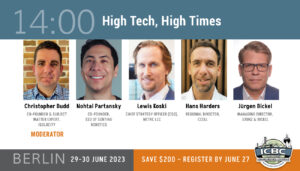 We are especially ecstatic about Chris's role as moderator for the panel discussion "High Tech – High Times" on June 30th. This panel will discuss the intersection of technology and the cannabis industry, an important topic as innovation continues to reshape the landscape. We encourage your attendance and participation in this stimulating discussion.
At Isolocity, we take great pride in serving the cannabis industry. With our proven track record and cannabis installations in 15 countries worldwide, we are dedicated to delivering the highest quality EQMS solutions to businesses operating in this sector. Our presence at ICBC Berlin reflects our commitment and expertise. We eagerly anticipate networking with industry professionals, exchanging insights, and exploring collaborative opportunities during the event.
If you are in Berlin, we earnestly hope you will stop by our booth #506. We appreciate the opportunity to collaborate with individuals who share our enthusiasm for advancing the cannabis industry and fostering excellence through quality management solutions. See you shortly in Berlin!
ICBC Berlin Update – 2022
Post Event Discussions
Legalization of cannabis in Germany
If you follow the Cannabis industry, you probably would know that lately, Germany has started moving towards legalizing adult-use of cannabis. Health Minister Karl Lauterbach has scheduled a draft law to be ready by the end of 2022 for the legalization of cannabis in Germany.
As per the Health Minister, Germany has over 4 million adult-use Cannabis users which is about 5% of the population. To put that number in perspective, according to cdc.gov, about 48.2 million adults in the USA, which accounts for approximately 18% of the population, used cannabis at least once in 2019. This number in Canada is 17% as per canada.ca. The legalization of adult-use cannabis in Germany will lead to a growth in adult-use cannabis users in the country.
In recent times Berlin has also experienced a pro-cannabis rally demand where around 500 Cannabis supporters gathered in Berlin and demanded faster action from the Government for the legalization of cannabis in Germany.
ICBC in Berlin, Germany
Given this context, this year International Cannabis Business Conference was held in Berlin which was an intelligent move.
We were fortunate to be a part of the biggest Cannabis trade show in entire Europe. Just like us, attendees flew from 85 different countries and gathered for a 2 day B2B conference in Berlin.
We were at booth 143 and it was a pleasure meeting with some old clients and friends. These photos below probably will give some indication about the fun we had. We met GlassHouse Botanics, NOC Pharma, RQC Pharma, Elevated Signals, and many other friends at the conference. We had some great discussions (some over drinks too) about the cannabis industry and the prospect of the same in Germany.






It was a pleasure to watch Mr. Burkhard Blienert, The Federal Government's Drug and Addiction Commissioner. He talked about the current complexities of the adult-use cannabis law in Germany and the entire Europe.
Discussion Points at ICBC
The 2-day conference was also packed with many other speakers and panels and we thoroughly enjoyed them. The discussions revolved around
Cannabis policy in Germany and how that can make an impact in Europe and the rest of the world
Emerging markets for Cannabis besides Germany
Complexities of the Cannabis industry concerning logistics, standardization, regulations, etc.
Takeaways from ICBC
After the 2 days event, we feel a little wiser. Some of the takeaways from the conference would be
Berlin Subway system is way more advanced than Toronto (on a lighter note )
The German medical cannabis market is driven a lot by distributors importing products from Canada and African nations.
Recreational legalization is still a little ways away but the movement seems very positive.
Portugal and Spain are hot markets.
Having a fully validated GMP EQMS that is compliant with Annex 11 is a must to operate in the EU. So if you are planning for an adult-use cannabis business in Germany, we can help as we have 20 years of experience in GMP.